Exploring Greece is sure to discover magical places that will fascinate and excite you. You will find small treasures in both mainlands and island Greece. For example, did you know that in less than two hours from Athens there is a beautiful gorge that stretches to the edge of the sea? It's in Evia and the experience of taking a dive there is shocking. Its beach combines in a unique way the sea, a river, a gorge, and the green setting. Everything you need to get away from everyday life and it will make you feel like you're somewhere far away. Even if you're a little while away from Athens.
The beautiful gorge next to Athens that ends at the sea
So what is this gorge and what is the beach we're talking about?  It is Schinodableia which is also known as Agios Dimitrios. It is located in South Evia and if you visit it you will understand our enthusiasm. Apart from its turquoise and crystal clear waters, it is definitely the gorge that gives another tone.
It is the gorge of Agios Dimitrios which is an impressive limestone gorge with the most dramatic rocky rectangles in the area of Ochis.
The gorge of Agios Dimitrios crosses a new road, leading from the village of Agios Dimitrios to Kallianos and Kavo Doro. There are also two amazing paths that cross the gorge and you can choose which one will lead you if you choose to follow this route to go to the beach.
Schinodaulia is for those who choose Evia for all it has to offer and want to discover even its last secret. For travelers who are not content with the well-known and advertised destinations but prefer even the most unknown corners of the country.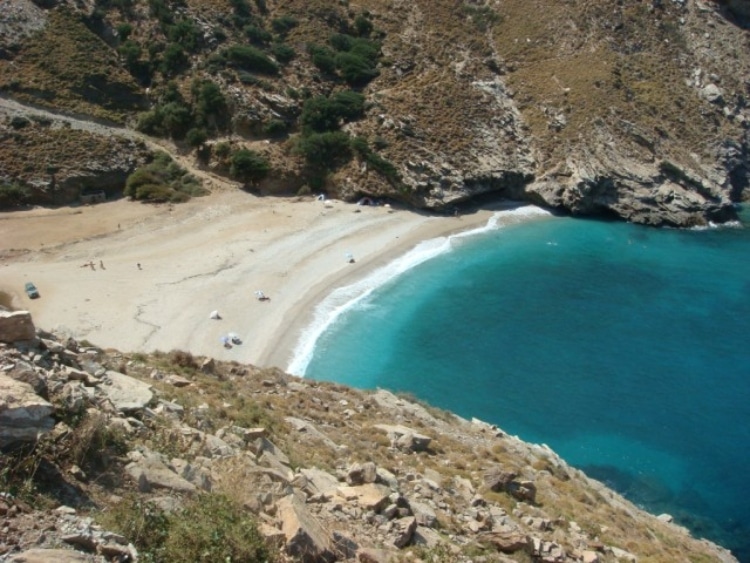 How to get to the beach
To reach Schinodableia you take the route through the river. However, in the summer it often drys up and looks like more of a dirt road. Many people drive this road without fear.
Tip: For the ride take with you a hat and water as well as a camera. You're going to enjoy it
Photography source: fysiolatris.gr
Read also:
Lakazeza: The unexplored blue-green beach 1.5 hours from Athens
The magnificent Xi beach in Kefalonia and why it is called so