Euboea is one of the most favourite destinations for a one-day or a weekend excursion getaway from Athens. Not unfairly if you consider how many different opportunities there are for you to have a good time. Within these opportunities are of course the beautiful beaches that you will find all over its coastline. One of these beaches is called Schinodaulia and is located in South Euboea. So, this beach with the pond in Euboea is waiting for you to discover it.
The unknown beach with the pond in Euboea
The beach of Agios Dimitrios or Schinodaulia is an exotic beach with crystal clear water and calm landscape.
There, you will face rocks like huge umbrellas that give you their shade. Its crystal clear water deepens enough to offer a beautiful swimming experience. Fine, white pebbles spread to most of the beach, and there is also there is white sand in some places.
What also is impressive, on this beach, is the pond that is formed in a special way. As you go to Agios Dimitrios, you will have to take the path starting from the homonymous village. You will cross the beautiful gorge, along the ravine in which the small river of the area flowsThis way you'll end up to the beach after a short hike. (The stream is often waterless in the summer, so the path becomes a dirt road and several cars can get quite close to the beach).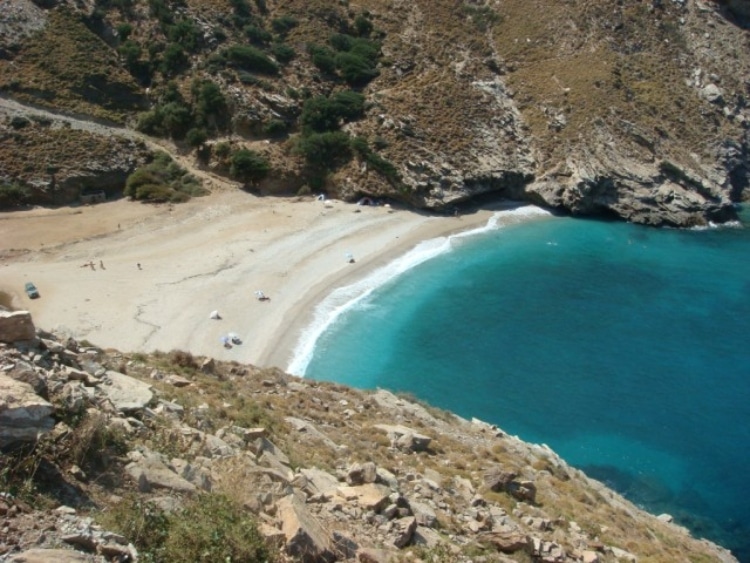 There, then, towards the end of the river, a pond is formed from the river which creates a unique setting. Something you won't see on another Greek beach. Schinodaulia is for those who choose Euboea for all it has to offer and want to discover even its last secret. For travellers who are not content with the well-known and advertised destinations but prefer even the most unknown corners of the country.