If there is anything that the Cyclades and generally in the Aegean sea have in abundance, this is definitely churches and monasteries so close to the sea. Small monasteries in caves, on rocks and on beaches. Each creates its own sacred atmosphere and calms you down as soon as you visit it one of the most impressive monasteries in the Cyclades there is in the Amorgos. The church of the Virgin Mary of Hozoviotissa.
The images are awe-inspiring. If you're there on vacation, the experience will be unforgettable.
Amorgos and Panagia Hozoviotissa
The monastery of Panagia of Hozoviotissa is built on the wild mountain hills of Amorgos. It seems to hang literally next to the void, having a unique view of the endless blue of the Aegean Sea. The monastery was built in 1088 and renovated by the Emperor of Byzantium Alexios Komnenos.
The reason for the construction of the monastery was the finding of a picture of the Virgin Mary who arrived from Hozovo or Hozova, Palestine. It is said that due to the persecution of Christians in the 9th century, the picture was moved and miraculously reached Amorgos.
According to the legend has the location was chosen by the Virgin Mary herself. Although the monastery underwent several changes over the centuries, and especially during the Venetian era (1296-1537), its particular character was not altered. In fact, for 900 years it has been continuously inhabited, without interruption even during the Turkish occupation.
The length of the monastery is estimated at 40 meters, while its width is only 5 meters. The 300 impressive stone steps lead you from the road to the entrance. If you go to the monastery you will notice that there are narrow stone stairs through which you can reach all 8 floors of the monastery, as well as all its wings.
he monastery, in addition to the monks' cells, has a bank, kitchens, ovens, warehouses, and other auxiliary spaces.
The monastery of the Cyclades today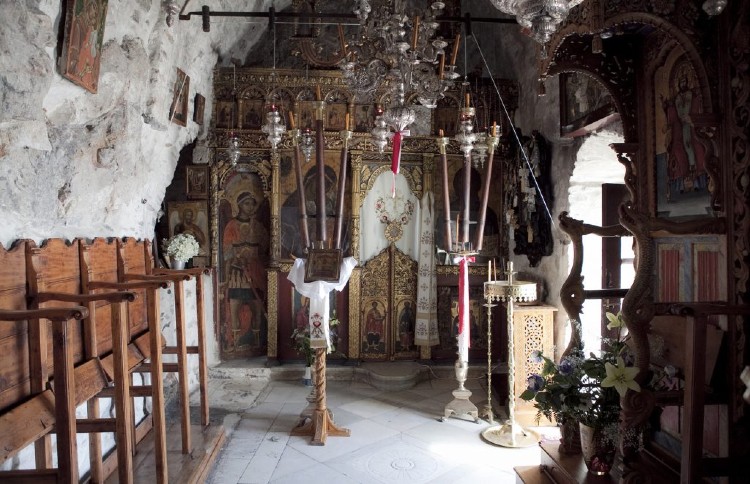 In our days, the ovens and the kitchens don't work. The bank opens for the believers on the 21st of November in the Assumption celebration. In 1977, the Monastery was renovated. Then the three small cells came together. So the visitors can wander through the relics of the Monastery and are given the opportunity to taste the well-established treat by the monks with citron and loukoumi (traditional greek desert).
Tip: If you are like hiking you can follow a special and relaxing trek through the old paths and the natural landscape of the island.
Photo Source: amorgos-island.gr
Read also:
Moni: The dreamy island of Attica